What Do I Do After a Fire?
Questions To Ask After A Fire Damage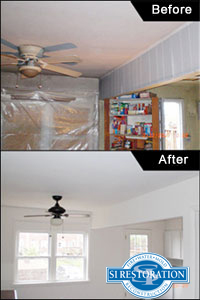 Victims of fires both big and small can attest to the fact that fire damage is the most devastating disaster that can happen to a property owner. Victims almost immediately start asking difficult fire damage questions like, "Why hire a restoration company who specializes in fire damage?" Baltimore, Maryland fire damage specialist SI Restoration has the expertise and experience to provide answers to these pressing questions as well as a variety of tools to help property owners overcome tragic fires.
Fire damage restoration companies should be highly-trained and certified in order to provide safe and efficient service for residential and commercial fire victims. From small stove-top fires to five-alarm blazes that ravage neighborhoods, fire damage creates smoke and residue that can damage property, ruin valuables, and cause illness in those who are exposed to it. SI Restoration has been providing the Baltimore, Maryland area with expert restoration services since 1989, working with home owners' and commercial property insurance providers across the Mid-Atlantic Region.
Another common question in regards to fire damage is, "Is it possible to remove odors due to smoke damage?" Property owners are urged not to try amateur methods to remove residue and odors caused by smoke damage. Firstly, smoke and soot can sicken home and business owners who are exposed to it for long periods of time. Secondly, only commercial-strength cleaning agents and deodorizing techniques should be used when treating items damaged by smoke.
Baltimore, Maryland residents who have benefited from SI Restoration's fire damage restoration will confirm via testimonials that the technicians and project managers at SI Restoration have not only provided expert service, but knowledgeable advice. For instance, any food - including canned goods - that have been exposed to fire damage should not be consumed. Also, electronics and appliances in the wake of a fire can malfunction either due to the excessive heat from the blaze or the water or chemical exposure after being extinguished.
Excessive water damage is also common after large fires. SI Restoration is certified by the IICRC, following IICRC S500 Guidelines for water restoration. These guidelines are especially important after fires have ravaged residential and commercial properties in Baltimore, Washington DC, or any other major area.
If you live in Maryland or Washington DC, call SI Restoration for your Fire Damage needs so we can access the situation and provide the right steps to recover from the Fire Damage incident.