Mold Remediation Cost
Maryland Mold Remediation Costs
Mold removal and remediation is the type of service a homeowner wants done right the first time. Informed consumers almost always consider cost as the most important variable in their search for the right product or service. However, as most informed consumer is aware, deciding on the services of a company with the cheapest cost is not always the best decision. 
There are indeed many variables to take into consideration when choosing a service provider to do any type of work in your home. When it comes to mold removal and remediation, arming oneself with as much knowledge about the subject as possible is key to determining which company is the best fit for your budget. (Review Tips on Mold Removal) 
A simple breakdown of service levels will help compare the cost of the remediation and quality of work being done, safeguarding your home from future mold outbreaks.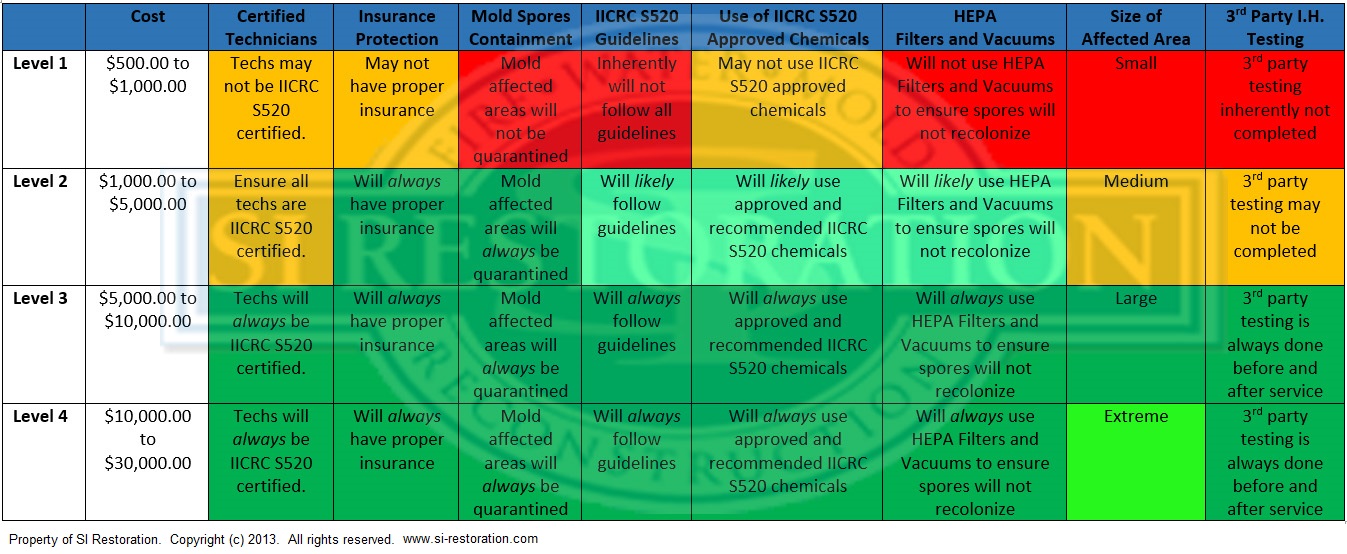 Mold Remediation Level 1 
The least expensive option is also the least effective. Most of the time, the services performed at this level are:
Simply cutting affected area away with a knife or saw
Cleaning/Scrubbing of affected area, possibly without IICRC-approved chemicals
Affected area will not be quarantined - leaving your home susceptible to recolonization of mold spores on walls, above ceiling, below floors or in air ducts.
Mold testing may or may not be done. However, if mold testing is completed, it will more than likely be done by the removal company itself and not be a 3rd Part Industrial Hygienist (IH)
Industrial Hygienists are certified by the American Industrial Hygiene Association, equipped with the most current and useful knowledge on Indoor Air Quality.
Companies performing testing without the use of a 3rd Party IH inherently cause a conflict of interest. All data could be altered for the benefit of the service provider.
Cost $500 - $1000
Mold Remediation Level 2
Medium level jobs have a medium price tag. However, you won't always get that optimum level of service you hoped for. Variables to keep in mind with this level of service are:
Like Level 1 jobs, all technicians may not be certified through the IICRC (Institute of Inspection Cleaning and Restoration Certification)
The cost for mold removal will only covered a medium-sized affected area
A third party IH may not be hired to conduct testing, causing potential risk to the work already done.
Cost $1,000 - $5,000
Mold Remediation Levels 3 and 4
Large and Extreme jobs are the specialty of companies like SI Restoration. Cost may be higher, but so will the quality of the service. You can also guarantee that every measure of precaution available was taken to ensure future mold outbreaks did not occur in your home due to the recolonization of spores from the current epidemic. Some tips to remember when hiring a service provider at this level are:
Ask for certification! Reputable companies should always be ready to provide clients with proper documentation and insurance
Ask questions about your 3rd Party IH. Industrial Hygienists are hired on a case by case basis. Be sure you are aware of the credentials your particular IH has earned. Because IH's are 3rd party entities, their services can be swapped out easily at your request.
Make sure proper filters, like HEPA filters, are being used during your mold removal.
Cost $5,000 and up.
Protecting your family's health is the key. Cheap costs are almost always associated with cheap service. By equipping yourself with the proper knowledge of mold removal, you will find the right cost to fit your budget.
SI Restoration is certified, insured and licensed for mold removal with an office in Baltimore, Maryland
Mold Remediation Costs vary by company and level of severity, make sure the company is BBB rated and not hiring a subcontracting site, know the company name before calling. If you live in Maryland or Washington DC call for more information on mold remediation costs.