Washington DC Sewage Damage
Sewage Restoration Cleanup Washington DC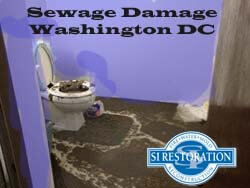 Washington DC, our nation's capital, like most major metropolitan areas has aging infrastructure. A result of this is sewage damage that might occur in your property. This will result in the possibility of flooding of many different properties in the District of Columbia with sewage. And, many pipes in the buildings that make up the district are getting older, and old pipes have a tendency to break. The result of these problems create the need for sewage remediation Listed below are different causes of sewage damage in the area.
Washington DC Sewage Main Blockages
One of the main problems of living in a city like Washington DC as mentioned before is the aging infrastructure of the city. As the city has grown over time many pieces of piping have gotten overused, and are past their life expectancy. A result is blockages can occur which can back up into the toilets or other waste receptacles in the property. This can be caused by foliage or larger items getting into the sewers of the city.
Washington DC Flood Damage
Being an older city has single system sewers which means that the runoff from rain and sewage lines can mix. Also, with many of the older sewage treatment facilities in the area running into the Potomac it can back up into the plant. This will result in the flooding of the sewer lines and potentially your home.
Bursting Pipes In Washington DC
Being the nation's capital many of the buildings date back over 100 years, the result is the pipes tend to be older. As time has gone on these pipes have become brittle and have slowly developed leaks. The result of this would be the flooding of the home with biological waste that is the result of the pipes bursting in the property.
When looking to handle sewage damage in Washington DC a company that is known for helping solve these problems is SI Restoration. Our crews have expert training in dealing with sewage damage and they are IICRC certified one of the premier certifications for restoration services. With over 25 years of experience you can trust that our company can help you solve any of your Washington DC sewage damage problems.