Biohazard Sewage Cleanup
Maryland Sewage Bio-hazard Cleanup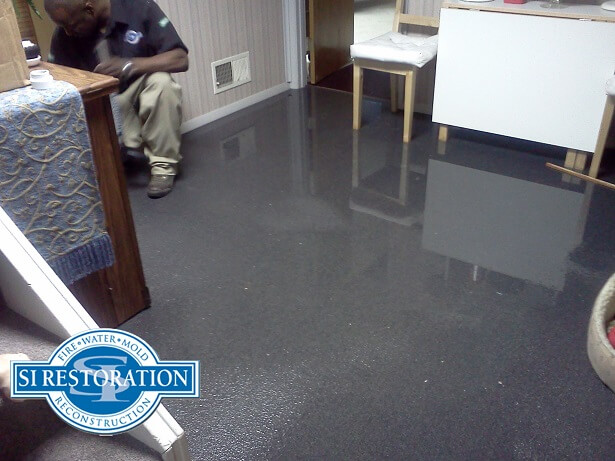 Bio-hazard sewage cleanup should be performed by a highly-trained, certified professional in order to ensure the safety of the affected area as well as the inhabitants of the property. Many life-threatening bio-hazards exist due to raw sewage exposure. Most porous items that come into contact with raw sewage must be handled properly by certified professionals and disposed of in a safe manner. One of the many sewage damage faqs is, "Will my property and items be saved due to sewage damage?" While certain items can undergo extensive sanitation and deep cleaning treatments to be deemed fit to use in a home or business, most items will have to be removed and disposed of.
The reasons for such extreme precautions to be taken during bio-hazard sewage cleanup are due to the fact that a variety of deadly pathogens, parasites, and bacteria live in raw sewage. Those who are exposed to raw sewage could contact any of the following diseases: E. coli, Salmonella, Giardiasis, Tapeworm, Human Papilloma Virus (HPV), Norwalk Virus, HIV/AIDS and others.
Bio-hazard sewage cleanup must be done immediately to avoid exposure to these deadly diseases. As soon as property owners are made aware of the breech, a professional sewage damage specialist should be contacted. With locations across the Mid-Atlantic, SI Restoration is equipped to offer 24 hours a day, 7 days a week emergency sewage damage services to residential and commercial clients in Maryland and Washington, DC.
Many things can cause bio-hazard sewage damage. Toilet seepage, pipes bursting, pipe or water main blockages, sewer main blockage or corrosion, and even intense flooding can cause contaminated water to enter the area. While sewage damage can be a deadly hazard under any circumstance, commercial water damage can affect larger amounts of people depending on the nature of the business. Employees, customers, maintenance crew members, and other are all susceptible to exposure if it is not handled in a timely manner.
SI Restoration practices remediation and mitigation techniques to the standards of the Institute of Inspection Cleaning and Restoration Certification (IICRC). The IICRC S500 Guidelines for Water Damage ensure the safety of both technicians and property owners as well as provide peace of mind in knowing that the affected area will be eradicated of any deadly pathogens, parasites, or bacteria thanks to bio-hazard sewage cleanup.