How to Clean & Prevent Illness & Coronavirus (COVID-19) in Your Home or Office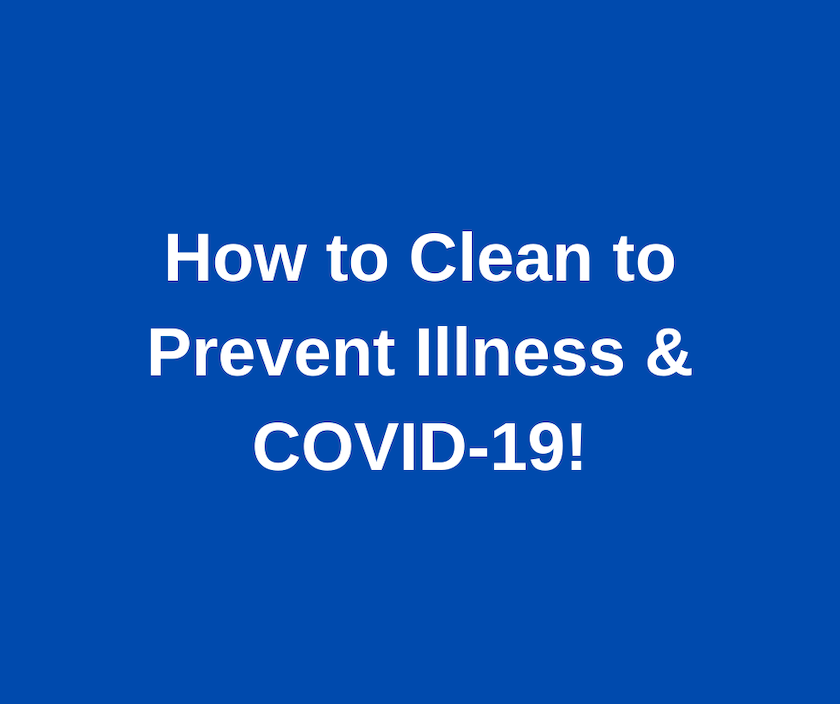 "COVID-19 spreads when an infected person breathes out droplets and very small particles that contain the virus. These droplets and particles can be breathed in by other people or land on their eyes, noses, or mouth. In some circumstances, they may contaminate surfaces they touch. People who are closer than 6 feet from the infected person are most likely to get infected.
COVID-19 is spread in three main ways:
Breathing in air when close to an infected person who is exhaling small droplets and particles that contain the virus.
Having these small droplets and particles that contain virus land on the eyes, nose, or mouth, especially through splashes and sprays like a cough or sneeze.
Touching eyes, nose, or mouth with hands that have the virus on them."
How to Avoid Illness Including Coronavirus (COVID-19):
Create a Clean Environment 
Do Not Share Touched Objects
Use Hand Sanitizer 
Wash Your Hands
Do Not Touch Your Face
Do Not Use Old Food and Drink Containers
Stop Bad Habits
Use Flu Shots & Other Vaccines 
Open Drink Containers
  Stay Home from Work When Sick
How to Avoid Illness Including Coronavirus (COVID-19) Explained:
1. Create a Clean Environment
Hiring a Disinfection & Sanitization Service Team can ensure removal of any past incidents of biohazards such as germs, vomit, blood, or fecal matter and ensure the environment is clean. They will use industrial cleaners to clean the mess and can use tools and chemicals to clean the bacteria in the air and remove it from the room. 
2. Do Not Share Touched Objects
Sharing items such as cups, utensils, pens, etc. can help spread germs. A lot of illnesses (including COVID-19) are contagious before individuals who have it show symptoms so it won't be obvious that they are sick but using or borrowing something from them may spread germs. Have everyone use their own personal items so there is not a need to share tools and if it must be shared (such as a doorknob) then have disinfectant wipes (or electronic safe disinfectant wipes if need be) around to cut down on germs that may remain on the surface. 
3. Use Hand Sanitizer 
Having a few hand sanitizer bottles around shared rooms such as bathrooms, kitchens, conference rooms (for offices), etc. can help promote use and cut down on the chances of germs spreading through surfaces. 
4. Wash Your Hands
Consistently keep soap around the bathroom and kitchen sinks to encourage hand washing and remind those that touching surfaces and then their face or mouth is a very common reason why people get sick. Hand washing should be thorough to be effective. 
Here are the CDC Guidelines for Washing Hands:
Step 1: Wet your hands with water (warm or cold), turn off the tap, and apply soap
Step 2: Lather your hands by rubbing them together with the soap. Lather the backs of your hands, between your fingers, and under your nails
Step 3: Scrub your hands for at least 20 seconds. Need a timer? Hum the "Happy Birthday" song from beginning to end twice
Step 4: Rinse your hands well under clean, running water
Step 5: Dry your hands using a clean towel or air dry them
5. Do Not Touch Your Face
Your face has openings that can let bacteria in and get you sick, especially respiratory illnesses from bacteria getting to your lungs. Cleaning surfaces and frequently washing your hands can go a long way but to further the efforts you should try to refrain from touching your face. Some bacteria can even enter via the eyes and as such the habit of rubbing your eyes should be broken. Another habit to break is sneezing or coughing into your hands, which leads to spreading germs through surfaces when you touch them with your hands. Use a tissue when you cough or sneeze when you can or cough or sneeze into your arm.  
6. Do Not Eat Old Food or Use Old Drink Containers
Old food and containers can spread germs and mold spores, old food should be thrown out and old containers should be cleaned out to help avoid illness. It's very common to have old mugs of coffee or tea lying around the home or of office and they should be cleaned regularly to get rid of germs. It would be a good idea to institute a dirty dish cleaning policy so that items are cleaned immediately after you bring them to the kitchen instead of letting them sit around. Dish detergent should also be available at the kitchen sink or common area sink to encourage people to properly implement the clean model.  
7. Stop Bad Habits
Stop bad habits that can spread germs such as the bad habit of licking your fingers before flipping between pages or money. Sneezing and coughing into the hands are another bad habit to break as it can help spread germs on surfaces. You should try to cough into your arm's sleeve. Another bad habit is touching your face or rubbing your eyes. Touching a surface with germs and then your face can risk getting bacteria into your body and in the case of a respiratory illness get into your lungs.   
8. Use Flu Shots & Other Vaccines
Taking flu shots yearly and other vaccines as directed in a timely manner can help cut down on the chances of the flu and other illnesses spreading among the home or workplace. Try to find out which pharmacies near your home or workplace are giving out flu shots and if they accept your insurance to make sure unnecessary costs are avoided.  
9. Open Drink Containers
Someone who sneezes (family or employee) is spreading germs in the air and with open drink containers such as cups or mugs germs can be spread more easily. A policy where drinks must be in covered containers such as tumblers and travel cups can help cut down on spreading illness and also cut down on the number of spills that happen on stainable surfaces or on equipment such as laptops and keyboards.
10. Stay Home from Work When Sick
It's usually more beneficial to keep sick people from coming into work. A sick employee at work is not as productive as they are when they are healthy and sometimes are so unfocused they can cause big mistakes. Losing one unproductive sick employee for a week is going to be better than having multiple sick employees working less efficiently in the office. Encourage your family, friends, and colleagues to use sick time and stay home rather than come in. When you find out that someone in your home or office is sick have someone use disinfectants on surfaces that they have touched because they were probably contagious a few days before calling out and there may still be germs on the surfaces they touched.
Call 443-530-8657, email Info@si-restoration.com, or use our Contact Us form for more information on our biohazard and COVID 19 cleaning services!