Mold Restoration
Expert Maryland Mold Restoration
SI Restoration specializes in mold restoration for your home or building.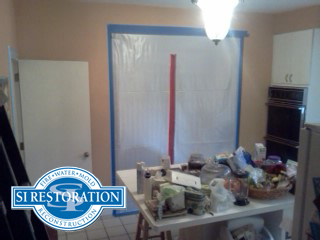 Exposure to mold can be extremely hazardous and cause major health concerns to property owners and their families and colleagues. In order to protect a residential or commercial property, mold restoration must be carried out by a certified mold restoration service in order to ensure a safe and healthy mold removal.
When standing water sits for 24 hours or longer, mold spores can infest the affected area causing a severe mold outbreak. Spores are the seeds of mold which usually travel through the air, or by attaching themselves to another host, in order to find a suitable environment for the mold colony to grow. Dark, damp, and humid areas are usually prone to substantial mold growth and require immediate restoration.
Bathroom
Kitchen
Basement
Crawl space
Attic
HVAC/Ventilation Systems
Though mold growth typically happens in these areas, spores can travel to any area of the property, allowing mold growth on any organic, porous material in your home. Mold is most commonly found on paper, cardboard, sheet rock, drywall, carpets, carpet pads, baseboards, concrete, furniture, fabric, basements, attics and other items and rooms throughout the home or building.
When this type of toxic fungus grows, mold restoration is essential to the health of the inhabitants of the property as well as the valuables and assets contained within. A reputable Maryland Mold Restoration Contractor must be trusted in order to properly remove the mold, reducing the chance of a recurring outbreak after restoration.
When seeking a Maryland mold restoration contractor, home and business owners should ensure their choice adheres to the Institute of Inspection Cleaning and Restoration Certification (IICRC)'s Guidelines for mold removal. The IICRC S520 Guidelines for Mold Removal specifically state that the following must be done to promote a safe, healthy mold removal process:
Proper containment of affected area
HEPA filters used on all air filtration and vacuum devices used during restoration
Use of OSHA approved chemicals and equipment
Repair of cause of initial leak/water damage
Use of industrial-grade air scrubbers
Proper disposal of all mold-infested materials
Use of proper Personal Protective Equipment (PPE)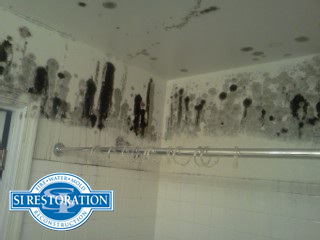 Along with meeting these guidelines, mold restoration contractors in Maryland and Washington DC should also employ the use of a third-party industrial hygienist to complete the mold spore testing before and after each mold restoration project (if necessary). By obtaining an independent specialist, mold test results will not cause a conflict of interest by benefiting only the mold restoration contractor.
Costs for mold restoration vary depending on the severity of the outbreak and the types of service a contractor has to perform. Most contractors will offer a low-cost or free estimate should you choose to employ their services for the mold restoration contractor project in your property.
Mold Restoration May Be Needed After:
Water Damage
Flood Damage
Sewage Damage
Pipes Bursting
Toilet/Sink Overflow
Contact us or call SI Restoration 24 hours a day, 7 days a week for help or advice about mold restoration. Our certified staff with over twenty years of experience in mold restoration will guide you through your project from start to finish.