Hotel Restoration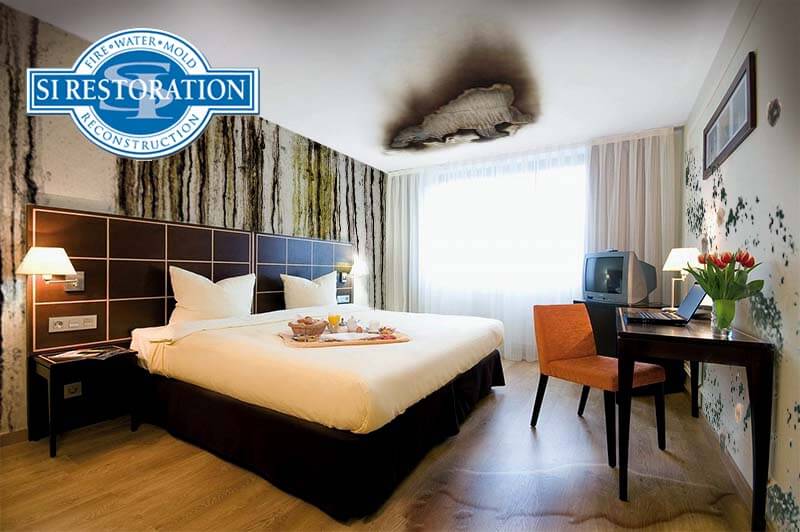 People are constantly coming and going within hotels, leaving behind well-lived in rooms. Hotels are no exception to damages. Various problems can occur, whether caused by man or nature. Pipes may burst, flooding may occur, mold may develop, and even fires are a possibility. Should any of these or similar problems arise, proficient emergency help is necessary to address the damages. SI Restoration is offering fire damage restoration, water damage restoration, and mold remediation services to help restore hotels after facing damages.
Fire Damage Restoration
Sometimes unexpected problems may occur. One danger that may develop is fire, which can cause tremendous damage. Whether a kitchen or electrical fire, the damages that can result can be hazardous and therefore need to be properly addressed. Fire damage can cause major setbacks for a hotel, so it is important to know what to do if a catastrophic fire occurs.
Tips for fire damage:
Assess the damages. To maintain safety, items such as food, clothing, furniture, etc. should be carefully inspected by a fire damage service provider before returning to the property.
Do not overlook smoke and soot. Smoke and soot inhalation can cause severe health concerns, so it is necessary to inspect the hotel for such damages.
There may be possible water damage. When fire officials use water to extinguish the fire threat, the water can potentially cause additional damages. The affected area(s) must be properly dried and treated to avoid further damages and possible mold growth.
Water Damage Restoration
Pipes leak, floods occur, and other water damage scenarios can transpire. This type of damage needs to be addressed as soon as possible because moisture issues can potentially lead to a mold problem. In addition to mold, water damage can also produce other issues such as biohazards or even fire if in contact with electrical sources. The source of water needs to initially be fixed before restoration work begins. If the leakage is not addressed, damages will continue. Once the source is repaired, the restoration process can begin. Tips for water damage:
Water damage can contain contaminants and other possible threats. Wear proper protective equipment before coming in contact with the water, and be on the lookout for sharp objects, electrical sources near the water, and other dangers.
A qualified water restoration company will be able to proficiently treat the affected areas to ensure they are properly dried and decontaminated.
Be aware of possible mold growth. Moisture issues can potentially produce mold, so it is necessary to treat water damage as soon as possible to avoid mold growth.
Mold Remediation
Mold can affect any property as long as the ideal conditions are met. Common mold locations include bathrooms and kitchens. If mold is present within a hotel it can put the well-being of guests and staff at risk. Anyone who is exposed to mold risks health issues, ranging from minor symptoms to more extreme conditions, depending on factors such as the individual, amount of exposure, and mold toxicity. Tips for mold problems:
Test the property for mold. Having a professional mold test completed by a qualified industrial hygienist helps to determine the affected area(s) and mold toxicity level.
Do not attempt to be a mold specialist. Avoid touching the mold without the proper safety equipment and disturbing the mold in general as it could result in mold spores spreading throughout more areas of the hotel.
Upon receiving the test results, contact a qualified mold remediation company to ensure the mold is safely and completely removed.
SI Restoration is a certified remediation/restoration business that is able to expertly address any possible fire damage, water damage, or mold issues within Maryland and Washington, DC. Hotels need to maintain safety and standards in order to satisfy customers and maintain business, so it is important to have a capable resource readily available to help whenever a problem occurs. Damages don't always occur at "good" times, so SI Restoration is on call 24/7 to ensure your property damages can be quickly and safely treated to minimize the possible impact damages can have on the hotel business.